Siblings Fight Skin Cancer with Mobile Dermatology Business Started During COVID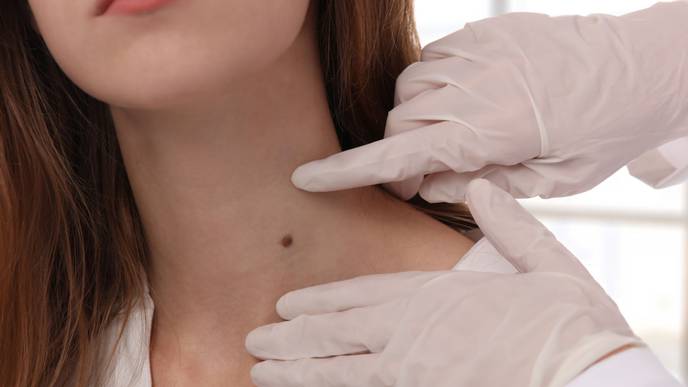 08/30/2023
When the COVID-19 pandemic struck the United States in March 2020, the four Hunt siblings — three of whom went to Northeastern University — found themselves back together at their parents' house in the Greater Boston area. 
The eldest brother, Don, was just furloughed from his job in sales at General Electric because of the pandemic, while the youngest, Darin, had his third and final co-op in his Northeastern career cut short for the same reason. Their sister, Cassandra, was preparing to graduate from Northeastern's College of Arts, Media and Design with a bachelor's degree in communications, and Dustin, who had gone to Northeastern on a baseball scholarship and had played for the Houston Astros, was looking for new, exciting opportunities while working at a big cybersecurity and data backup solutions company in Boston.   
The Hunts couldn't have imagined then that three years later they all would be running a  successful startup with 135 employees. The company, OnSpot Dermatology, is a mobile dermatology practice that operates in Southwest Florida and the areas of Orlando and Palm Beach.
"COVID was a blessing," Cassandra, 27, says. "Without COVID we wouldn't be here creating this amazing medical practice and all working together. It's definitely amazing what has come out of that [first idea]." 
Don, 31, who, unlike his siblings, went to Trinity College, says he's always wanted to start a business. He got interested in an idea that his father's best friend, Allan Harrington, a dermatologist with a large skin cancer practice in Annapolis, Maryland, shared with them — to open a first in the U.S. mobile dermatology practice.
Darin, 25, and other siblings became interested, too. 
They decided to partner up with Harrington. Don and Darin took the lead on laying the groundwork for the startup in April-May 2020. In June, they incorporated their company, OnSpot Dermatology. The Hunts raised capital from Premier Capital and an individual investor for their venture.
"We have applied the principles we learned throughout our time at Northeastern by creating a medical practice that is changing the way people are seen by a medical provider," Darin says. "We are redefining what it means to be a medical practice and saving lives while doing it." 
Skin cancer is the most often diagnosed form of cancer in the U.S. At least one in five Americans will get skin cancer by the time they are 70 years old, according to the Skin Care Foundation. More than 9,500 people get this diagnosis every day, but if a skin cancer like melanoma, for example, is detected early, there is a 99% chance of survival.
An OnSpot tagline says "15 minutes could save your life," but getting an appointment with a dermatologist in the U.S. is not an easy task. In 2022, the average wait time to see a dermatologist was 34.5 days, according to AMN/Merritt Hawkins. The actual numbers differ widely, from as low as nine days in Philadelphia to 50 days in Boston and 84 days in Portland. The majority of people — 86% — will never see a dermatologist in their lifetime.
The Hunts, who grew up in Andover, considered starting their dermatology business in Massachusetts, but there was a much bigger demand in Florida, especially in large gated communities where people did not want to leave their homes during the pandemic. The siblings packed up their bags, said goodbye to their friends and moved to the Sunshine State.
OnSpot started seeing patients in February 2021, employing two dermatologists, five physician assistants and 25 other team members. The company acquired two $600,000 40-foot mobile clinics with three exam rooms each. They worked out of Fort Myers and Sarasota and served patients from Naples to Tampa.
Harrington, who is one of the leading Mohs surgeons in the country and the medical director at OnSpot, says he was impressed by the Hunt siblings because of their hardworking nature, intellect and solid work ethics.
Each of the Hunts runs a particular part of the business.
Darin, whose major at Northeastern was computer science with a minor in marketing, is the director of marketing and IT, responsible for both the computer systems within the clinics and developing the OnSpot brand. He created the company's logo, the OnSpot website, all of the marketing materials and graphics on the trucks. He also manages advertising and social media campaigns.
"I love marketing, because I'm able to see a direct impact of how I can help the practice itself," he says.
Cassandra is using what she has learned at Northeastern in her role of the patient experience manager, overseeing both OnSpot's front desk operations and 13 representatives in the call center.
"I love being in a medical practice because I do think it's rewarding no matter what field you're in. You're still saving people's lives," Cassandra says.
While at Northeastern, Cassandra completed two co-ops with the Boston Beer company (Sam Adams beers) and a financial planning company, Brown Brothers Harriman.
"Both experiences gave me a totally different view on both cultures and work environments," she says. "Co-ops have given me the opportunities to figure out what I didn't want to do and taught me how to be a professional employee in different professional settings." 
She also gained experience in interviewing for jobs that she now uses in hiring her staff.
Dustin, 29, had to retire from professional baseball due to injury. He graduated from Northeastern in 2018 with a degree in criminal justice. He, however, followed the steps of his father and eldest brother after college and got into sales.
At OnSpot Dustin leads a six-person sales team that reaches out and forges relationships with communities, local governments and corporate partners. This is giving the company access to a whole spectrum of people, Harrington says, who have not seen a dermatologist and who the dermatology community does not have access to.
As the company's president Don oversees the practice on a large scale. He points out that as someone who did not do a co-op program, he has noticed how much more prepared his siblings were to enter the real world and start their careers.
Working together can be challenging, the Hunts say, but it has also been a lot of fun. They even hired their mother (their first employee) to handle the social media presence of the company. 
OnSpot now has eight mobile clinics and goes to 55-plus gated communities, schools, private companies, hotels, Universal Studios and SeaWorld. In their 30 months of operation, OnSpot dermatologists have seen 65,000 patients and have found 5,500 skin cancers. 
Some stories are outright life-changing like a 25-year-old caddie who one rainy day stopped by an OnSpot clinic parked at a golf club by pure chance and was diagnosed with melanoma; or a dog owner who was on a walk and didn't expect to hear "skin cancer" after an impulse decision to check out the mobile clinic stationed in their community. 
Currently, the co-founders are discussing expanding into states like Arizona, Georgia and Texas.
Alena Kuzub is a Northeastern Global News reporter. Email her at a.kuzub@northeastern.edu. Follow her on Twitter @AlenaKuzub.