Physician Assistant, Nurse Practitioner, or Doctor: What Patients Should Know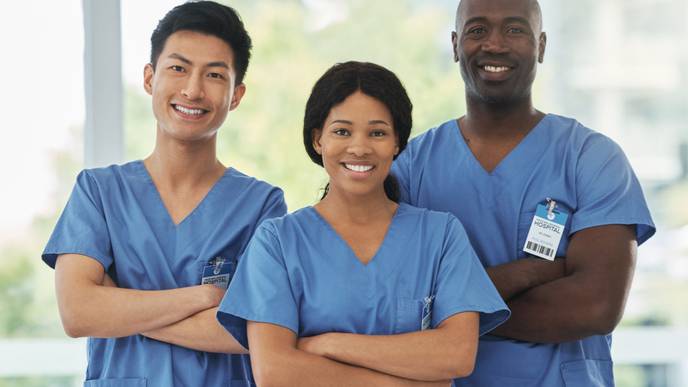 08/23/2023
The nurse practitioner will see you now.
It's not the phrase most people are accustomed to hearing, but it's increasingly the case, with patients more likely than ever to see providers with advanced degrees, such as physician assistants and nurse practitioners, instead of doctors.
The physician shortage, a growing demand on health care and more people graduating with advanced degrees helped expand their presence at physicians offices. But what does that mean for patients?
Data shows patients have similar health outcomes regardless of whether they see a physician, physician assistant or nurse practitioner in primary care settings, but the jury is still out in other settings, like emergency departments and specialty care.
As providers with advanced degrees become more prevalent in health care facilities, experts say more research needs to be done and conversations had to determine where and how their skills can be most beneficial.
"There's a lot of medicine that requires the care of an M.D. but there's a lot of medicine that doesn't, and the key thing is to allocate providers to the places where they're needed and likely to be most effective," said Dr. Anupam B. Jena, professor at Harvard Medical School and co-author of the new book, "Random Acts of Medicine: The Hidden Forces That Sway Doctors, Impact Patients and Shape Our Health."
Why there are more PAs and NPs
This shift to other types of medical professionals began about 20 years ago, health experts say, and the COVID-19 pandemic only accelerated it.
"It's been more and more accepted that physician assistants and nurse practitioners are highly qualified professionals that can take on a lot of the work that's traditionally done by physicians," said Perri Morgan, physician assistant, and professor in family medicine and community health at Duke University School of Medicine.
In its 2023 report, U.S. News and World Report ranks nurse practitioner and physician assistant as the first- and second-best jobs in health care, respectively, after measuring qualities like compensation, job growth and stress levels, among others. A March 2022 study published in the Future Healthcare Journal found physician assistants are estimated to grow 35% by 2035.
These careers became more popular as the physician shortage increased already long wait times for doctor's appointments, experts say. The average physician appointment wait time has risen 24% since 2004, from about 20 days to 26 days in 2022, according to a survey by Merritt Hawkins, a physician and advanced practitioner recruiting and consulting company.
Medical misinformation:Among those spreading medical misinformation during the pandemic: 52 doctors
Large hospital systems began hiring more physician assistants and nurse practitioners because there were more of them in the workforce, and they're cheaper to hire compared with physicians, Morgan said.
While physicians require at least four years of medical school plus residency, physician assistants and nurse practitioners need only about two years for their advanced degrees. And unlike specialists, these advanced providers have more general training, which gives them the freedom to work in various health care settings.
"We're not bound to any specialty, which is unique. Doctors spend so much time getting their specialty and they don't move easily," Morgan said. "When there's a bigger need suddenly for one area, physician assistants can follow the market."
Health outcomes: Are costs and patient care different?
Most research comparing patient outcomes between different providers has been limited to primary care settings.
One study set in community health centers analyzed nearly 24,000 patient visits over five years, looking at nine different patient outcomes and quality measures among physician assistants, nurse practitioners and primary care physicians.
Researchers found there was no statistical difference in seven out of the nine outcomes studied regardless of a patient's provider, according to the June 2017 report published in Medical Care, a peer-reviewed journal from the American Public Health Association.
The quality measures in which study authors found a difference: Nurse practitioners were more likely to provide smoking cessation counseling and education services.
"That's how nurse practitioners are trained. They're trained to educate patients to make them as independent in their care as possible to promote self-care, prevention and health," said Ellen Kurtzman, one of the study's authors, and professor and executive director of health administration at Rutgers University Edward J. Bloustein School of Planning and Public Policy.
Another study, published June 2019 in Health Affairs, analyzed electronic health records of diabetes patients from Veterans Affairs clinics over two years and found nurse practitioners, physicians assistants and physicians achieved similar outcomes in helping patients control blood pressure, blood sugar and cholesterol.
"We focused on diabetes because it's very common, very important and it's a risk factor of other problems like heart failure," said Morgan, who authored the study. "It accounts for a large percentage of health care costs and to manage diabetes well you need that partnership between the provider and patient."
Researchers were also able to calculate costs and found the cost of care for patients was lower among nurse practitioners and physician assistants compared to physicians. The findings showed the difference in costs was largely driven by emergency department visits and hospitalizations among patients who had a physician.
"If the care that they provide is equivalent, there are opportunities to use advanced practice clinicians in ways that will save the country money and not threaten the quality of care," Kurtzman said.
However, one paper that has yet to be published and peer-reviewed suggests a different story in emergency departments.
The report looks at clinical outcomes and costs of patients seen by a nurse practitioner or physician in Veteran Health Administration emergency rooms. Since the type of patient who comes to the emergency room is random and who they're seeing is based on availability, the report could control for some biases found in primary care settings, said Jena, who is not affiliated with the study.
The paper found nurse practitioners used more resources to achieve worse patient outcomes compared with physicians. But that doesn't mean physicians are always better than nurse practitioners, said the study's author Dr. David Chan, associate professor of health policy at the Stanford School of Medicine and a physician at the VA Palo Alto Health Care System.
"It's a nuanced point because there's a lot of variation," he said. "It's important to ask how to use all these professions in teams and how they can all work together."
How PAs and NPs can fill in gaps
Health experts say the best way physician assistants and nurse practitioners fit into the changing health care landscape is in a team setting alongside or under the supervision of physicians.
These advanced degree providers can be especially important in some of the fastest growing sectors of health care including mental and behavioral health, geriatrics, and rural medicine.
A meta-analysis published in June in Nursing Outlook found patients in the United States who were seen by nurse practitioners for mental health conditions in primary care settings were linked to decreased symptoms and improved self-management.
As the nation faces a mental health and substance abuse crisis amid a shortage of mental health professionals, health experts say nurse practitioners and physician assistants could play an important role.
"When it comes to nurse practitioners, there's some evidence to show that their care of psychiatric and substance abuse problems is at a quality that as a nation we should feel comfortable with," said Kurtzman, who co-authored the study.
School avoidance:Students are increasingly refusing to go to school. It's becoming a mental health crisis.
These advanced degree clinicians could also help provide care to the aging population as the youngest Baby Boomers finally age into Medicare by 2030, a generation the U.S. Census Bureau estimates is about 73 million people.
"As they age, we're going to have a lot of more chronic medical concerns that will need to be treated and assessed," said Dr. Sterling Ransone, board chair and former president of the American Academy of Family Physicians and a practicing rural family physician in Deltaville, Virginia.
Nurse practitioners and physician assistants are valued members of the team who can help alleviate some of that workload, he added.
And although the physician shortage is a nationwide problem, health experts say those living in rural or disenfranchised communities are feeling the worst effects as some patients lose their only provider within a drivable distance.
Over 100 million Americans, or one-third of the nation, don't have access to a usual source of primary care due to a shortage of providers in their local community, according to an analysis by the National Association of Community Health Centers.
While physician assistants and nurse practitioners play a huge role in medicine, health experts say it's important to not overlook their limitations.
"There's a lot of places where nurse practitioners and physician assistants can probably do very well in health care but other places where they don't," Jena said. "It's important not to overextend and put people in situations where they wouldn't thrive in."
Follow Adrianna Rodriguez on Twitter: @AdriannaUSAT.
Health and patient safety coverage at USA TODAY is made possible in part by a grant from the Masimo Foundation for Ethics, Innovation and Competition in Healthcare. The Masimo Foundation does not provide editorial input.