Daily Sugary Drinks May Increase Risk of Liver Cancer, Death From Chronic Liver Disease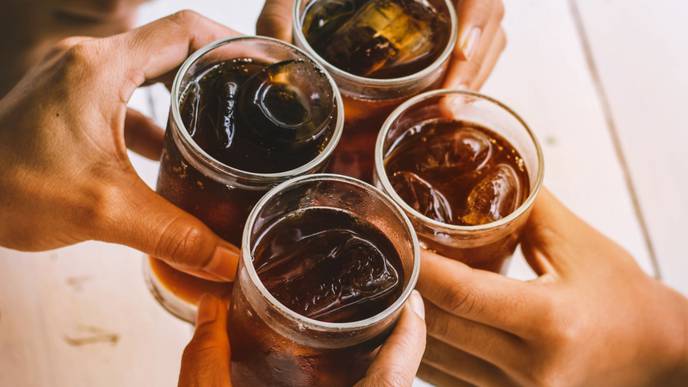 09/15/2023
Drinking one or more sugar-sweetened beverages a day is associated with a significantly higher incidence of liver cancer and death by chronic liver disease in older women, a new study finds.
The research, published last month in medical journal JAMA, included nearly 100,00 postmenopausal women, their self-reported sugar-sweetened beverage consumption, and incidence of liver cancer and chronic liver disease mortality over the course of approximately 20 years.
In the study, 7% of women said they consumed one or more sugary beverage daily; those women had an 85% higher risk of liver cancer and a 68% higher risk of chronic liver disease mortality, compared to people who had fewer than three sugar-sweetened beverages per month.
"To our knowledge, this is the first study to report an association between sugar sweetened beverage intake and chronic liver disease mortality," first study author Longgang Zhao, PhD, of the Brigham's Channing Division of Network Medicine, said in a news release. "Our findings, if confirmed, may pave the way to a public health strategy to reduce risk of liver disease based on data from a large and geographically diverse cohort."
Here's what to know about the new research, and how to reduce your risk of liver cancer and chronic liver disease by cutting back on sugar-sweetened drinks.
Approximately 65% of U.S. adults consume sugar-sweetened beverages daily.
Meanwhile, incidence rates of liver cancer have also more than tripled since 1980, while death rates have more than doubled. Worldwide, there's also a high incidence of chronic liver disease—a condition that too can cause liver cancer and death.
It's for these reasons, in part, that researchers at Brigham and Women's Hospital sought to study the association between sugar-sweetened beverages and liver cancer and chronic liver disease mortality.
"Intake of sugar-sweetened beverages, a postulated risk factor for obesity, diabetes, and cardiovascular disease, may drive insulin-resistance and inflammation which are strongly implicated in liver carcinogenesis and liver health," Zhao told Health in a joint response with senior study author Xuehong Zhang, ScD, associate professor of medicine at Harvard Medical School and associate epidemiologist at Brigham and Women's Hospital.
"On the other hand, epidemiological studies on dietary factors and liver cancer and chronic liver disease mortality are limited," Zhao and Zhang said. "The identification of new dietary factors may inform disease etiology and primary prevention strategies for liver cancer and chronic liver disease mortality."
For the study, researchers analyzed self-reported and observational data from 98,786 postmenopausal women aged 50 to 79. The women were all enrolled in the Women's Health Initiative program between 1993 and 1998, from 40 different clinical centers across the U.S., and were followed up to 2020.
Over the course of the research, 207 women developed liver cancer and 148 died from chronic liver disease.
Women who reported drinking at least one sugar-sweetened beverage per day—6.8% of the women in the study—were significantly more likely to be diagnosed with liver cancer or die from chronic liver disease (85% and 68% more likely, respectively).
Researchers also looked at the effects of drinking artificially-sweetened beverages on both liver cancer and chronic liver disease mortality, but found no association between the two.
Despite the significant increase in risk, researchers said the mechanisms behind the association between sugar-sweetened beverages and liver cancer or chronic liver disease mortality are still unclear.
"It is important to understand that this is not a causal relationship," Eleonora Teplinsky, MD, medical oncologist at Valley Health System and medical advisory board member at Sermo, told Health. "More research is needed to validate these findings and to understand the potential mechanisms behind the increased risk."
Still, there are some theories: "Higher intake of sugary drinks may influence liver diseases through its effect on overweight and obesity onset, a strong risk factor for liver diseases," study authors wrote, noting that there's also a link between excess sugar and fat storage in the liver, which can ultimately lead to healthy liver cells being replaced with fat cells.
When study authors asked participants to report their sugar-sweetened drinks, they specified that they wanted to know about regular soft drinks (not diet), and fruit drinks like Tang®, Kool-Aid®, Hi-C®, or other fruit drinks not including fruit juice.
But that's just what the researchers asked about. According to Kristin Kirkpatrick, MS, RDN, dietitian at the Cleveland Clinic Dept of Department of Wellness & Preventive Medicine and author of Skinny Liver and the upcoming Regenerative Health, anything with sugar at the top of the ingredient list counts as a sugar-sweetened beverage. (Think: sports drinks, energy drinks, bottled coffees and teas, etc.)
"This includes any kind of sugar that does not have any fiber attached to it because this causes a quick blood sugar and insulin spike," Kirkpatrick told Health. "Anything causing this spike can negatively impact the liver when consumed too often."
Other sources of sugars to watch for on labels include brown sugar, corn sweetener, corn syrup, dextrose, fructose, glucose, honey, lactose, malt syrup, maltose, molasses, raw sugar, and sucrose.

These study results cannot definitively answer whether or not it's ever too late to stop drinking sugary beverages. "While we lack direct insights into whether stopping a sugary beverage diet has time limitations, further research is required to establish such connections definitively," said the study authors.
"However, based on current literature that implies the detrimental impact of sugary drinks on obesity and diabetes, it's never too late to make positive changes to your diet, including reducing or eliminating sugar-sweetened beverages," they added.
Teplinksy agrees: "You cannot prevent cancer but you can certainly take steps to lower your risk and limiting consumption of sugar-sweetened beverages is an important step." She added that reading nutrition labels is the best way to identify a sugar-sweetened beverage.
According to Kirkpatrick, it's also important to look at the nutritional profiles of your drinks—that means limiting all liquid calories that don't also have fiber, healthy fat, or protein attached to them.
"Drinking water over a sugar-sweetened beverage is always preferred," said Teplinksy. 
"For individuals that do not like water, adding in lemon or lime juice can be helpful to spruce it up," Kirkpatrick said.
As for juices: While fruit has many health benefits, it loses fiber in juice form, and its sugar concentration increases. "So if you love oranges, consume an orange, [instead of] the juice," Kirkpatrick said. "If it's too hard to [stop drinking juice] cold-turkey, then begin by watering it down."