College Students Are at Risk for Food and Nutrition Insecurity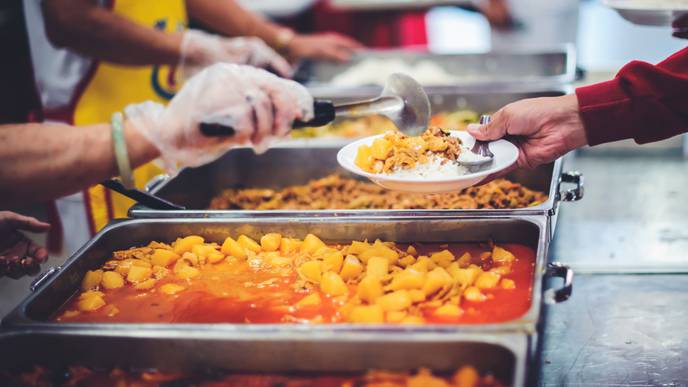 10/12/2023
The Society for Nutrition Education and Behavior (SNEB) holds its founded position that college students, especially those from underserved communities, are at risk for food and nutrition insecurity. The position paper shared in the Journal of Nutrition Education and Behavior, reinforces this stance with research, measurement, and potential policy solutions.
SNEB President Yenory Hernandez Garbanzo, Ph.D., said, "This position paper sheds light on the critical issue of food insecurity among college students. It emphasizes the importance of a systemic approach and the active involvement of students in advocating for their right to food and contributing to healthier diets for both individuals and the planet. Food and nutrition education is undoubtedly one powerful tool to drive this transformation."
Lead author Meg Bruening, Ph.D., MPH, RD, Department of Nutritional Sciences, The College of Health and Human Development, The Pennsylvania State University, explained, "Food insecurity is inconsistent access to foods, whereas nutrition insecurity is the inconsistent access and availability of foods for the maintenance of healthy bodies and support of disease prevention and management."
Food and nutrition security is a result of complex socioecological factors. For example, students have time and resource scarcity and must sometimes choose between food and other expenses.
Dr. Bruening noted, "College campuses have been described as food deserts, perpetuating the disparity in the consistent food access for emerging adults pursuing higher education, with limited access to healthy foods."
Food insecurity disparities are magnified for collegiates. Research has shown that they are associated with lifestyle habits, including unhealthy dietary habits and patterns, and less sleep. Students experiencing food insecurity have three times greater odds of enduring mental health issues than those who are food secure.
Campus-based programs that provide food directly to students in need, like food pantries, are the most common mechanisms being used to address food insecurity among students. Unfortunately, these programs often lack evaluation systems, are strained for support, and are short on infrastructure.
Dr. Bruening commented, "There have also been campus task forces and committees to address food insecurities at colleges nationwide. The formation of a task forces marks an early action phase that can serve as a critical formative step in engaging key stakeholders, assessing opportunities and challenges, coordinating action, and raising awareness across campus and university systems."
Action is needed to make measurable differences in food and nutrition security for collegiates. Based on the best evidence currently available, recommendations include, but are not limited to:
High quality research on food insecurity assessment measures and screening tools.
Ongoing national surveillance of food insecurity for college students.
More rigorous research for inference on how it impacts health and other outcomes over time.
Intervention for subpopulations that are consistently underserved.
Improved collaboration across disciplines supporting college students.
Investments to scale food assistance programs for those who need them.
Improved awareness of existing resources available to students who experience food insecurity.
More emphasis on the unique needs of emerging adult health.
More information:
Meg Bruening et al, Position of the Society for Nutrition Education and Behavior: Food and Nutrition Insecurity Among College Students, Journal of Nutrition Education and Behavior (2023). DOI: 10.1016/j.jneb.2023.07.005
Provided by Elsevier
Citation: College students are at risk for food and nutrition insecurity (2023, October 11) retrieved 11 October 2023 from https://sciencex.com/wire-news/458463341/college-students-are-at-risk-for-food-and-nutrition-insecurity.html
This document is subject to copyright. Apart from any fair dealing for the purpose of private study or research, no part may be reproduced without the written permission. The content is provided for information purposes only.