U of M Study Suggests Even More Reasons to Eat Your Fiber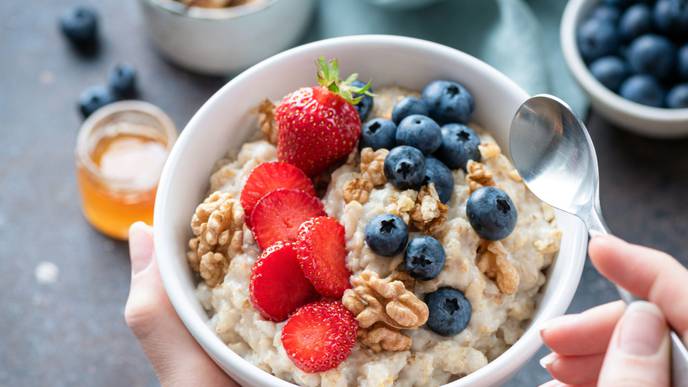 10/26/2023
MINNEAPOLIS/ST. PAUL (10/24/2023) — Health professionals have long praised the benefits of insoluble fiber for bowel regularity and overall health. New research from the University of Minnesota suggests even more reasons we should be prioritizing fiber in our regular diets. In a new study published in Nutrients, researchers found that each plant source of insoluble fiber contains unique bioactives — compounds that have been linked to lower incidence of cardiovascular disease, cancer and Type 2 diabetes — offering potential health benefits beyond those of the fiber itself. 

"People understand the need for fiber and how it relates to gut health — an area of wellness that is becoming increasingly important as scientific research continues to reveal its impact on overall health and wellbeing," said Joanne Slavin, co-author of the paper and a professor in the College of Food, Agricultural and Natural Resource Sciences at the University of Minnesota. "Fiber is the marker of health that is included in our dietary guidelines and found on product labels, but our research indicates that we need to ensure the other valuable components of fiber-containing plant sources — the bioactives — are also recognized as providing valuable benefits for human health." 

The study aggregated the available literature on the health benefits of bioactives in plant sources of insoluble dietary fiber.

They found: 
A variety of plant foods, including fruits, vegetables, legumes, nuts, seeds and whole grains contain insoluble dietary fiber, and each source contains unique bioactives that support health in different ways.

Desirable bioactives like Quercetin, Resveratrol, Catechins, Anthocyanins, Lutein, Lycopene and Beta-Carotene were found in a variety of plant foods that also contain insoluble dietary fiber.

Plant sources with bioactives and insoluble dietary fiber could be used to fortify processed foods to increase their nutritional value. Food production byproducts such as peel, hulls, pulp or pomace are generally high in fiber and bioactives and therefore offer unique nutritional value from sustainable sources.

Consumer research found that utilizing this fortification at a low level did not decrease consumer acceptability of the food product. 

"The suggestion to eat more fruits and vegetables isn't a novel idea, but it's something most people still struggle to do," said Jan-Willem Van Klinken, co-author of the study and senior vice president of medical, scientific, and regulatory affairs for Brightseed. "If we can offer widely accessible fiber-fortified products that have been developed to enhance rather than negate bioactive content, we can provide consumers with increased nutritional value."

This most recent research on bioactives' impact on human health further illuminates the need for industry, academia and government to join forces to champion broad awareness and education of bioactives in food and health systems.

"The collection of literature we reviewed and the results of this research can serve as a paradigm shift in how the food and health industries, as well as consumers, view insoluble dietary fiber and bioactives," said lead author Madeline Timm, who co-authored the research for her graduate project at the University of Minnesota. "Continued research and broad inclusion of bioactives in foods and supplements can have a real impact on human health."

Further research is required to identify extraction and processing methods that preserve and optimize bioactive compounds.
About the College of Food, Agricultural and Natural Resource Sciences 
The University of Minnesota's College of Food, Agricultural and Natural Resource Sciences (CFANS) strives to inspire minds, nourish people, and sustainably enhance the natural environment. CFANS has a legacy of innovation, bringing discoveries to life through science and educating the next generation of leaders. Every day, students, faculty, and researchers use science to address the grand challenges of the world today and in the future. CFANS offers an unparalleled expanse of experiential learning opportunities for students and the community, with 12 academic departments, 10 research and outreach centers across the state, the Minnesota Landscape Arboretum, the Bell Museum of Natural History, and dozens of interdisciplinary centers. Learn more at cfans.umn.edu.