Philadelphia Hospital ER Doctors Are Bracing for Super Bowl Revelry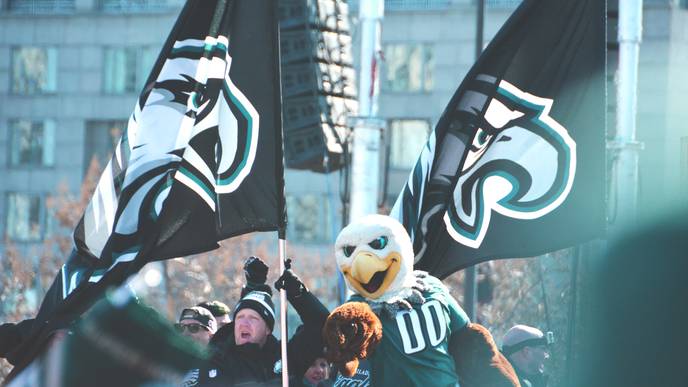 02/09/2023
Philadelphia Eagles fans can be a bit, ah, er … extra. Known the world over as loud-and-proud and prone to climb utility poles — or dance atop a SEPTA bus shelter — in celebration.
But too much fervor can land fans in a hospital emergency room.
Lauren Morrell, an ER doctor at Albert Einstein Medical Center in North Philadelphia, said she hopes fans will play it extra safe, though not less spirited, on Super Bowl Sunday. Regardless, the ER team will be bracing for the game aftermath if local streets erupt with revelers.
"They're over the top — in a good way," Morrell said.
Morrell, an Eagles fan who has worked at Einstein for more than two decades, said hospital ER staff historically have seen a dip in patient volume during Super Bowl game time when many people are glued to their televisions, although they sometimes see an uptick in knife lacerations and stove burns from cooking preparations in the hours leading up to party gatherings. So be careful when slicing vegetables for your crudités or handling a hot tray of pigs in a blanket.
The Inquirer talked with three Philadelphia ER doctors who offered tips for how to avoid a trip to the hospital before, during and after the game.
Win or lose, ER doctors at Einstein, Temple University Hospital's three campuses and Thomas Jefferson University Hospital said they are ready for any mayhem or mishaps to come with Super Bowl LVII.
"For us in emergency medicine, we're always prepared for the worst," said Sean McGann, an ER doctor at Jefferson, where he treats patients at the Center City campus and the Methodist Hospital location near the stadiums in South Philadelphia. "With a big game like this, the stakes are a little bit higher."
Intoxicated-fuel car accidents, falls and gunfire
Statistics show that Super Bowl Sunday can be one of the worst days for car crashes. Researchers from the University of Toronto studied U.S. crash data from 27 Super Bowl Sundays and found that alcohol, inattention and fatigue contributed to an increase in fatal traffic accidents after the game.
Researchers, who compared Super Bowl Sunday to the preceding and subsequent Sundays, found a 41% increase in the average number of fatalities after the telecast, according to the study published in 2003 by the New England Journal of Medicine.
Fans should limit alcohol intake, avoid drinking on an empty stomach, pick a designated driver or call an Uber if imbibing or feeling too tired to drive home.
"If you are at a party or at a bar, not driving home is probably the biggest advice or plea any ER doctor can give," McGann said.
Pedestrians should use extra caution when heading home or celebrating on Philadelphia's streets. Within city limits, the biggest concern is people getting hit by cars, said Michael DeAngelis, an ER doctor who runs the emergency medicine department at Temple University Hospital.
DeAngelis said the ER is also likely to see people, especially inebriated ones, injured from tumbling down a flight of stairs or falling from a height, like a greased utility pole.
"People climbing or jumping off of things or falling while intoxicated — that's the most common by far," said DeAngelis, referring to Philadelphia's unique brand of celebrating sports victories.
» READ MORE: `I heard it pop': Eagles fan details the moment a Center City bus shelter gave out beneath her and others
McGann, who lives in Center City, said when the Eagles beat the 49ers on January 29, he took his 3-year-old son, Max, out to Broad Street to experience the euphoria. That night Eagles fans danced on top of a SEPTA bus shelter and it collapsed. Three people went to the hospital with non-life-threatening injuries. McGann said the vast majority of fans were genial.
Another hazard, though rare, is gunshot wounds caused by people firing their guns into the air in revelry. People have accidentally shot themselves or others, DeAngelis said.
"Be careful about what you do," DeAngelis said.
Try not to overeat; don't ignore symptoms
Game Day food can be heavy on salt and grease, like chips, soft pretzels, wings, cheesesteaks and pizza. Foods high in salt are hard on the heart and its arteries, and can trigger a heart attack or contribute to heart failure, Morrell said.
People should not wait to come into the ER if they experience unexplained chest pain, shortness of breath, fatigue, nausea, or stroke-like symptoms, such as arm or leg weakness, numbness, slurred speech, or sudden vision problems.
Stress also can exacerbate medical conditions. Try not to get overly emotional when watching the game; stress hormones can raise blood pressure, which can increase the risk of a heart attack or stroke, the ER doctors advised.
There's also the risk of high emotions leading to fights among family and friends, ER doctors noted.
"I hope if anyone has a friend or a family member who has some loyalty to the Chiefs that they would welcome them and just enjoy their company," DeAngelis said.