Parkinson's Disease Could Be Detected Early with AI Scans, Scientists Say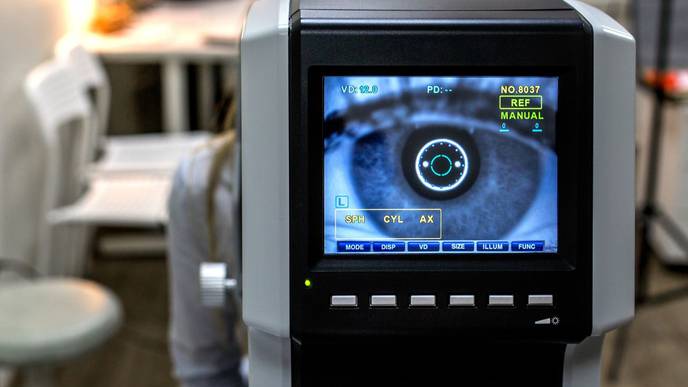 08/23/2023
Eye scans powered by artificial intelligence (AI) could detect Parkinson's disease before people have symptoms, a study has suggested.
Teams from London's Moorfields Eye Hospital and the UCL Institute of Ophthalmology used AI to analyse a dataset and pick up on retinal markers.
The process found physical differences in the eyes of people with Parkinson's and those without the condition.
It is hoped the method could be used as a pre-screening tool.
The scientists studied data from a type of 3D scan known as optical coherence tomography (OCT), which produces a high detailed image of the cross-section of the retina, from a cohort of 154,830 patients aged 40 and over who had attended eye hospitals in London between 2008 and 2018.
The process was repeated using data from a medical database, assessing 67,311 healthy volunteers aged between 40 and 69.
It found people with Parkinson's had a thinner ganglion cell-inner plexiform layer and inner nuclear layer in the eye. It identified these markers seven years, on average, before clinical presentation.
OCT scans, which are widely used by opticians, are useful for monitoring eye health as they show layers of cells below the skin's surface.
Researchers suggest looking at these layers in the years before symptoms present themselves could help detect the disease earlier.
'Huge impact on public health'
Siegfried Wagner, a clinical research fellow at Moorfields and the UCL Institute of Ophthalmology researcher, said: "I continue to be amazed by what we can discover through eye scans.
"Finding signs of a number of diseases before symptoms emerge means that, in the future, people could have the time to make lifestyle changes to prevent some conditions arising, and clinicians could delay the onset and impact of life-changing neurodegenerative disorders."
Louisa Wickham, Moorfields' medical director, said using imaging across a wider population could "have a huge impact on public health in the future" with the potential for "predictive analysis".
"OCT scans are more scalable, non-invasive, lower cost and quicker than brain scans for this purpose," she added.
The project's findings have been published in Neurology, the medical journal of the American Academy of Neurology.
Claire Bale, associate director of research at Parkinson's UK, said: "Intervening earlier to stop the loss of precious brain cells is the key to preventing the condition.
"And because the eye scans analysed in this study are non-invasive and already in routine use, this could be easily put into practice in the NHS."
Moorfields said data from eye scans has previously revealed signs of other neurodegenerative conditions, including Alzheimer's, multiple sclerosis and schizophrenia.