COVID-19: Lessons from the Pandemic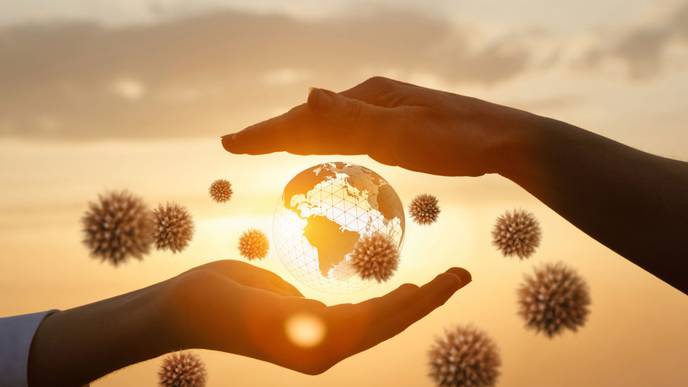 09/04/2023
'Let us remember the lessons of the coronavirus to usher in a new era on a global scale with different personal and collective behaviour so that everyone, not just a few, enjoys the dignified life that is their due. We have to remember that we cannot go back to "pre-COVID". We have to keep in mind that the circumstances before the pandemic most likely contributed in some way to the situation as have had to live it. A radical change of course is indispensable and urgent…"

~Federico Mayor Zaragoza, Former Director-General of UNESCO and Former Member of the European Parliament.
Where did COVID-19 originate? Prof Angus Dalgleish shows that the virus that emerged in Wuhan, China in 2019 had been modified in a laboratory to make it more infectious (for the construction of a more effective vaccine). Unfortunately the virus appears to have leaked out of the institute laboratory and so caused some seven million deaths worldwide. Professor Dalgleish's conclusion has recently been vindicated by others, including science author Matt Ridley and public bodies like the US Senate, Federal Bureau of Investigation, and the US Department of Energy.
A multi-author volume, the chapters in Evaluating a Pandemic
In this book, the COVID-19 outbreak is compared with previous epidemics that have occurred in the past. The aim of this book is to provide a review of the situation from 2020 to 2022, and to consider how to react in future epidemics. Readers will find the contrast between the economic consequences of lockdown in Sweden and the UK particularly illuminating.
This volume begins with the source of the SARS-COV-2 virus, before proceeding to analyse the high-speed development, manufacturing and distribution of 'classical' and novel vaccines against COVID-19. It also presents an assessment of the diagnostics used to identify infected patients and prevent the spread of the virus to those at risk of severe disease and death, and how lessons learned from them can help us confront future epidemic and endemic diseases. Evaluating a Pandemic includes scholarly analyses of various countries' responses to the pandemic and their respective economic and sociological aftermaths, and discusses what we can learn from them.
This publication is a valuable resource for scientists, clinicians, psychologists, economists, bureaucrats, and politicians who deal with or write policies in preparation for future endemic and/or pandemic diseases. Historians and sociologists may benefit from the information collected and presented within.
Evaluating a Pandemic retails for US$78 / £60 (hardcover) and is also available in electronic formats. To order or know more about the book, visit http://www.worldscientific.com/worldscibooks/10.1142/13039.
###
About the Editor
Professor Charles Pasternak is a British biochemist and founding Director of the Oxford International Biomedical Centre, of which he is currently President. He has published over 250 original papers and reviews, and is the founding Editor-in-Chief of Bioscience Reports, helming the journal for 28 years. He is also the editor of Biosciences 2000 (World Scientific, 1999), and author of eight other books.
Educated at Oxford University, Charles Pasternak spent 15 years on the staff of the Oxford Biochemistry Department, during which time he also held a teaching Fellowship at Worcester College, Oxford. He spent two years as a Post-Doctoral Fellow in the Pharmacology Department of Yale University Medical School, and subsequently held an Eleanor Roosevelt Fellowship of the International Union Against Cancer in the Department of Neurosciences at the University of California San Diego Medical School in La Jolla. In 1976 he was invited to move to St. George's Hospital Medical School, University of London, in order to set up a new Department of Biochemistry, which he subsequently expanded into a larger Department of Cellular and Molecular Sciences as founder-Chairman. He is currently President of the Oxford International Biomedical Centre which he founded in 1992.
Charles Pasternak is a tireless promoter of international scientific collaboration. He has been a member of the Executive Committee for a UNESCO initiative on Molecular and Cellular Biology, a member of the Education Committee of the International Union of Biochemistry and Molecular Biology (IUBMB), a member of the International Advisory Board for the Chulabhorn Research Institute, Bangkok and a member of the Scientific Board of Antenna Technologie, Geneva. In 1979 he founded the Cell Surface Research Fund in order to foster international research links and scientific meetings on various aspects of fundamental and clinical research on the cell surface. In 1993 he received the degree of Doctor Honoris Causa and Palade medal from the University of Bucharest, in 1995 the honour of Amigo de Venezuela from the Fundacion Venezuela Positiva, and in 2002 was elected Foreign Member of the Polish Academy of Arts and Sciences.
About World Scientific Publishing Co.
World Scientific Publishing is a leading international independent publisher of books and journals for the scholarly, research and professional communities. World Scientific collaborates with prestigious organisations like the Nobel Foundation and US National Academies Press to bring high quality academic and professional content to researchers and academics worldwide. The company publishes about 600 books and over 170 journals in various fields annually. To find out more about World Scientific, please visit www.worldscientific.com.
For more information, contact WSPC Communications at communications@wspc.com.
---
---
Disclaimer: AAAS and EurekAlert! are not responsible for the accuracy of news releases posted to EurekAlert! by contributing institutions or for the use of any information through the EurekAlert system.