CHLA Researcher to Lead First-Ever International Liquid Biopsy Retinoblastoma Study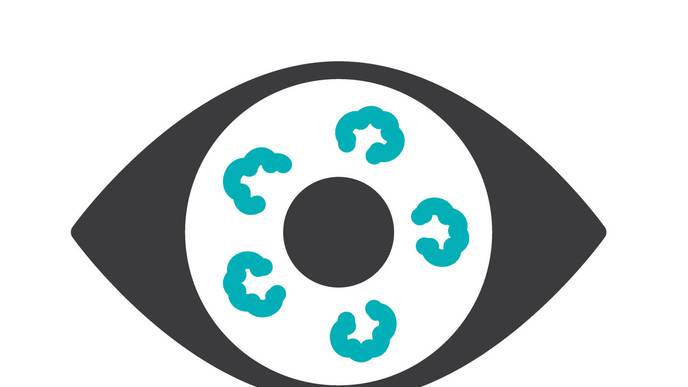 08/07/2023
Study will investigate the use of liquid biopsy for diagnosis and determining disease severity.
Just a handful of years ago, retinoblastoma had the medical field stumped. This pediatric eye cancer cannot be directly biopsied, which means clinicians must diagnose the disease by visual examination and imaging. Recently, a researcher at Children's Hospital Los Angeles developed a new way to diagnose retinoblastoma by sampling the fluid at the front of the eye. These liquid biopsies also offer genetic and chromosomal information, which gives a more complete picture of each child's disease. Now CHLA will lead an international liquid biopsy retinoblastoma study, the first of its kind.
A New Line of Research
Jesse Berry, MD, is the Director of Ocular Oncology and the Retinoblastoma Program at CHLA. Once strictly a clinician, Dr. Berry transitioned to research with the goal of finding a better way to diagnose retinoblastoma. This cancer—which affects the light-sensing layer at the back of the eye—is extremely aggressive and can result in loss of one or both eyes if not treated quickly. But timely treatment depends on a timely and accurate diagnosis.
Most cancers are diagnosed with a biopsy: An oncologist samples tumor cells and performs various tests to confirm the type of cancer. Unfortunately, this cannot be done with retinoblastoma. "It isn't a solid mass, like some cancers," says Dr. Berry. "It's like a thick liquid, and it's difficult to physically get to." Attempts to directly biopsy the tumor, she explains, can do more harm than good, potentially causing cancer cells to spread. Not only does this make diagnosing the cancer difficult, but it also prevents researchers from studying the cancer cells, a necessary process in understanding the disease and advancing treatments. Dr. Berry had the idea to examine the aqueous humor, the fluid inside the eye itself. Could this fluid contain the information clinicians needed to diagnose retinoblastoma?
A simple yes doesn't suffice—because the information Dr. Berry's team found in the liquid biopsies went beyond improvements in diagnosis.
"The last five years have been really exciting in retinoblastoma research," says Dr. Berry. "We use a tiny amount of fluid—100 microliters, about half the size of a green pea—and from that we get a trove of information, things that were impossible to see before. We can see genetic mutations, chromosomal aberrations. We can diagnose retinoblastoma at a molecular level." This provides oncologists with a very specific map of each child's disease.
"There are a few specific factors that come up in these biopsies," she says, "markers that we suspect are bad players, leading to a more severe disease." Indeed, this is what Dr. Berry has confirmed this in studies involving CHLA patient samples. "But we need to really ramp up this research so we can help kids everywhere," says Dr. Berry. "We need to look at a much larger data set." This summer, Dr. Berry's team will do just that, leading an international research study.
While the first part of her work was largely exploratory—are there markers in the aqueous humor?—the second phase asks: What can be done with this information?
Taking it to the International Level
The National Cancer Institute of the National Institutes of Health (NIH) has awarded Dr. Berry $2.8 million to lead the first prospective international retinoblastoma liquid biopsy study to date. The study will include samples from 18 centers, including the largest retinoblastoma center in Canada. All material will be processed and studied at Children's Hospital Los Angeles, under the direction of Dr. Berry, who is the sole principal investigator named on the grant.
Children will be followed for a minimum of two years, so researchers can examine samples for possible cancer recurrence. Because tumors return in approximately 50% of retinoblastoma patients, this information can be lifesaving.
"We know that detecting a cancer as early as possible gives a child the best chance," says Dr. Berry. "In continuing to take biopsies from these children, we can treat any recurrences early on, even before they're visible to a clinician upon examination."
Innovation in Under a Decade
To put into perspective how quickly and exponentially this research has grown, one need only to look at Dr. Berry's NIH awards. A mere five years ago, she proposed to study the aqueous humor for liquid biopsy. Now, as her five-year grant comes to a close, much has changed, thanks to Dr. Berry's determination and the work of CHLA's Center for Personalized Medicine. "We now have a test in-house, where we can sample a patient's aqueous humor, and within days, we know whether or not the child has retinoblastoma, and the exact mutations and molecular profile of the cancer."
What's next?
The results of Dr. Berry's forthcoming study will help shape the next phase of her research. "Right now, we're in this position where we see very strong data," she says, "and we need to ensure that what we're seeing is also represented in the international population." Then, says Dr. Berry, the team has plans to develop a clinical trial to evolve the standard of care for diagnosing and treating retinoblastoma—and link specific treatments to the information identified in the liquid biopsy.
About Children's Hospital Los Angeles
Children's Hospital Los Angeles is at the forefront of pediatric medicine, offering acclaimed care to children from across the world, the country and the greater Southern California region. Founded in 1901, Children's Hospital Los Angeles is the largest provider of care for children in Los Angeles County, the No. 1 pediatric hospital in California and the Pacific region, and is consistently ranked in the top 10 in the nation on U.S. News & World Report's Honor Roll of Best Children's Hospitals. Clinical expertise spans the pediatric care continuum for newborns to young adults, from everyday preventive medicine to the most medically complex cases. Inclusive, compassionate, child- and family-friendly clinical care is led by physicians who are faculty members of the Keck School of Medicine of USC. Physicians translate the new discoveries, treatments and cures proven through the work of scientists in The Saban Research Institute of Children's Hospital Los Angeles—among the top 10 children's hospitals for National Institutes of Health funding—to bring answers to families faster. The hospital also is home to one of the largest training programs for pediatricians in the United States. To learn more, follow us on Facebook, Instagram, LinkedIn, YouTube and Twitter, and visit our blog at CHLA.org/blog.