CDI Study of Fevers in Children During COVID-19 Raises Further Questions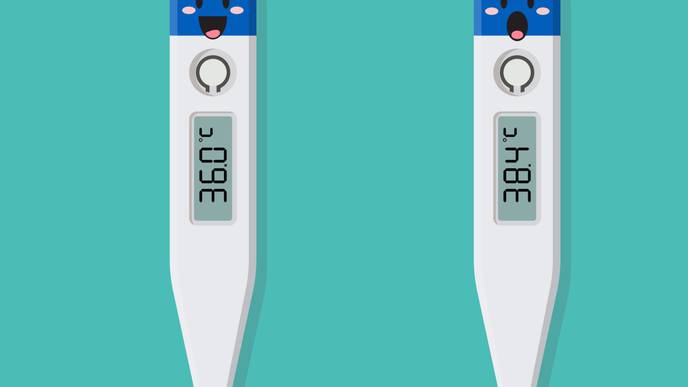 08/31/2023
An uptick in fevers detected among children at more than two dozen hospitals in North America during COVID-19 highlights the question whether there are normally more autoinflammatory disorders such as recurrent fevers among children going overlooked in non-pandemic times, according to a new study by researchers including a CDI physician-scientist.
The paper "Increase in pediatric recurrent fever evaluations during the first year of the COVID-19 pandemic in North America" was published by Frontiers in Pediatrics on Aug. 3, and includes Sivia Lapidus, M.D., pediatric rheumatologist, Joseph M. Sanzari Children's Hospital, Hackensack Meridian Health, the Hearst Foundation Physician-Scientist at the Hackensack Meridian Center for Discovery and Innovation (CDI), and an assistant professor of Pediatrics at the Hackensack Meridian School of Medicine.
The increase in new patients evaluated for recurrent fevers also suggests that recurrent fevers in children may be more common than previously thought and perhaps did not prompt early medical attention pre-pandemic as they were attributed to common infections of childhood," conclude the authors, from the Childhood Arthritis and Rheumatology Research Alliance (CARRA) PFAPA/Autoinflammatory Disease Working Group.
The researchers assessed patient encounters at 27 sites in North America.
Their findings: that recurrent fevers jumped from 7.79 percent of pediatric patients pre-pandemic, to 10.9 percent after the arrival of SARS-CoV-2.
"Our data demonstrated a temporal increase in pediatric subspecialty evaluations for new recurrent fever diagnoses during the first year of the COVID-19 pandemic in North America, both in absolute numbers and proportionally in relation with the total new outpatient pediatric encounters in all geographic areas included in this study," the paper states.
A possible explanation is that fevers normally go overlooked during "normal" times without a pandemic were noticed and prompted a clinical visit during the pandemic, when temperatures were monitored closely.
"We speculate that children with autoinflammatory disorders were recognized earlier because they were having recurrent fevers with minimal infectious exposures from daycare or school, which is consistent with previous reports," they conclude. "Additionally, the frequent assessments of temperature due to COVID-19 precautions may also have increased awareness of childhood recurrent fevers.
"Further research is needed to understand the reasons behind these findings and to explore noninfectious triggers for recurrent fevers in children," they add.
---
---
Journal
Frontiers in Pediatrics
Method of Research
Observational study
Subject of Research
People
Article Title
Increase in pediatric recurrent fever evaluations during the first year of the COVID-19 pandemic in North America
Article Publication Date
3-Aug-2023
COI Statement
Authors (including those in consortium) and their disclosures (vast majority nonrelevant to this brief report) include Maryam Piram with Patent Valor, L'Oreal, Novartis, Pierre Fabre Dermatology, Lakshmi N Moorthy with Bristol-Myers Squibb, Brian E Nolan with Sobi, Eveline Wu with AstraZeneca, Bristol-Myers Squibb, Janssen, Pharming Healthcare Inc, Felice C Adler-Shohet with BioNTech, Moderna, Seqirus, Tiphanie Vogel with Moderna, Novartis, Pfizer, Sobi, Smriti Mohan with CARRA, Fatma Dedeoglu with Novartis, Kathryn Edwards with NIH and CDC funding, Bionet, IBM, Sanofi, X-4 Pharma, Seqirus, Moderna, Pfizer, Merck, Roche, Novavax, Brighton Collaboration, and Grant Schulert with Novartis, SOBI. The remaining authors declare that the research was conducted in the absence of any commercial or financial relationships that could be construed as a potential conflict of interest.
Disclaimer: AAAS and EurekAlert! are not responsible for the accuracy of news releases posted to EurekAlert! by contributing institutions or for the use of any information through the EurekAlert system.